We are all here! All students happily await our Spanish adventure.
Evening walk and our first impression of Malaga. We are delighted to be here!
At night, Seaside's Promenade and beach made a perfect place for a walk. We spent few minutes at the beach, looking for some seashells and enjoying the view
Our firs Spanish dinner. After a long flight, everything tasted delicious. We can't wait to taste more local food in coming days.
Second Day of our Spain adventure. We started the day with a city tour accompanied by a tour guide. We learned about the city's origin and history and we saw some beautiful places like the teatro romano, el ruina, Alcazamba and monumento al Marqués de Larios.
In the afternoon we visited a Museum of Malaga where we enjoyed art and archeology exhibitions. On our way back we climbed up to the highest point in Malaga where we were able to see the panorama of the city and the mountains surrounding it fading into the sea.
An active Sunday in Seville- the capital city of Andalusia. We started today's trip with visiting Plaza de España– Spain Square, where 49 Spanish provinces are represented in the form of bunches made out of ceramic tiles. Then we took a walk towards The Royal Alcázars of Seville and we visited The Cathedral of Saint Mary of the See, that is also known as Seville Cathedral. It didn't take long for us to realise we were in the presence of greatness, consisting of masterful landmarks and stunning landscapes and parks.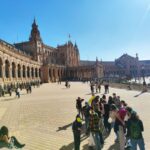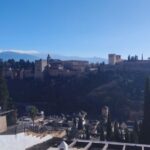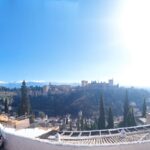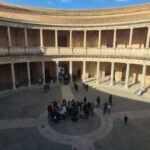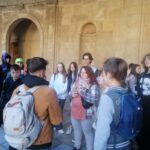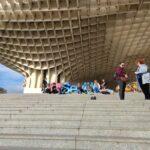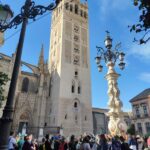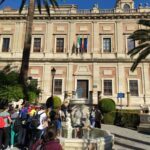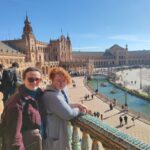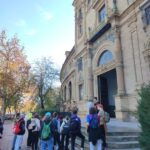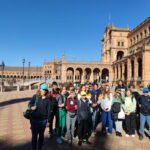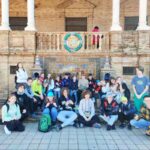 After a wonderful weekend of sightseeing, it was time to meet students from Colegio Montessori in Malaga. All students worked together on a cultural project. After  completing all tasks in the city center, we had a very enjoyable afternoon on the beach where we could rest and enjoy the sea, sun and sand. We can't wait for another exciting day and we're looking forward to seeing our Spanish friends tomorrow.
Another day with our Spanish friends. We went to the beach together and spent the day doing many sports activities that brought us closer and ended in many new friendships. After saying goodbye to our friends, we went on a fascinating and windy boat tour along the coast of Malaga. At the end of the day, we searched the city for souvenirs to bring back to our beloved ones. 
Our journey is coming to an end. Today for the last time on the plan: Explore Malaga. This time we headed to the mountains, which, together with the sea, encircle Malaga. The result was a good spirited hike, followed by singing. We were accompanied by the mountain range of Morocco on the horizon. With Africa within our grasp, we rested at the end of the trail and headed back. We look forward to another day with our Spanish friends at the Montessori School and are sad that it will be the last for now.
Friday was the last day we could enjoy Malaga, including its beauty and weather. We had an amazing and intense day with Spanish students in their Montessori school. Students started with Escape Room prepared especially for them. They had to prove that they are creative and clever while trying to find the clues and solve the riddles. Next, all students took part in drama and meditation classes. After shared classes, Spanish students prepared a special second breakfast for us full of delicious, local specialities. We also shared some Polish treats. The school day ended with music and outdoor activities, we said our goodbyes with a song, had some more fun outside, and promised to keep in touch. We are really lucky we were so welcomed here and we will miss our new friends for sure. In the afternoon, we followed the traces of Picasso. We started our adventure with a late night walk to the Beach and we ended it that way.
The Erasmus program is a great way for our students to get to know new places, learn something new, practice their skills and improve their knowledge. There is no better way of learning than traveling and meeting people. We are beyond grateful for the opportunity of exploring the world together! Erasmus is a powerful experience. We are happy that we saw a part of a beautiful Spain and met students and teachers from Montessori School of Malaga. We were greeted warmly and we hope it is just a beginning of a longer cooperation!